5 Pro Tips on How to Work Efficiently  — From Home.
To the hundreds of thousands of people who have left their offices to work from home and help flatten the curve, kudos!
Recently, many people in my network have expressed their aversion to working from home. Some feel like they get less work done and others just feel like it's discouraging and lonely to sit at home and work. So, I've gathered some pro-tips from people in my network with long remote experience on how to create an efficient and beneficial work environment for themselves to keep business going in a world that needs you to stay at home.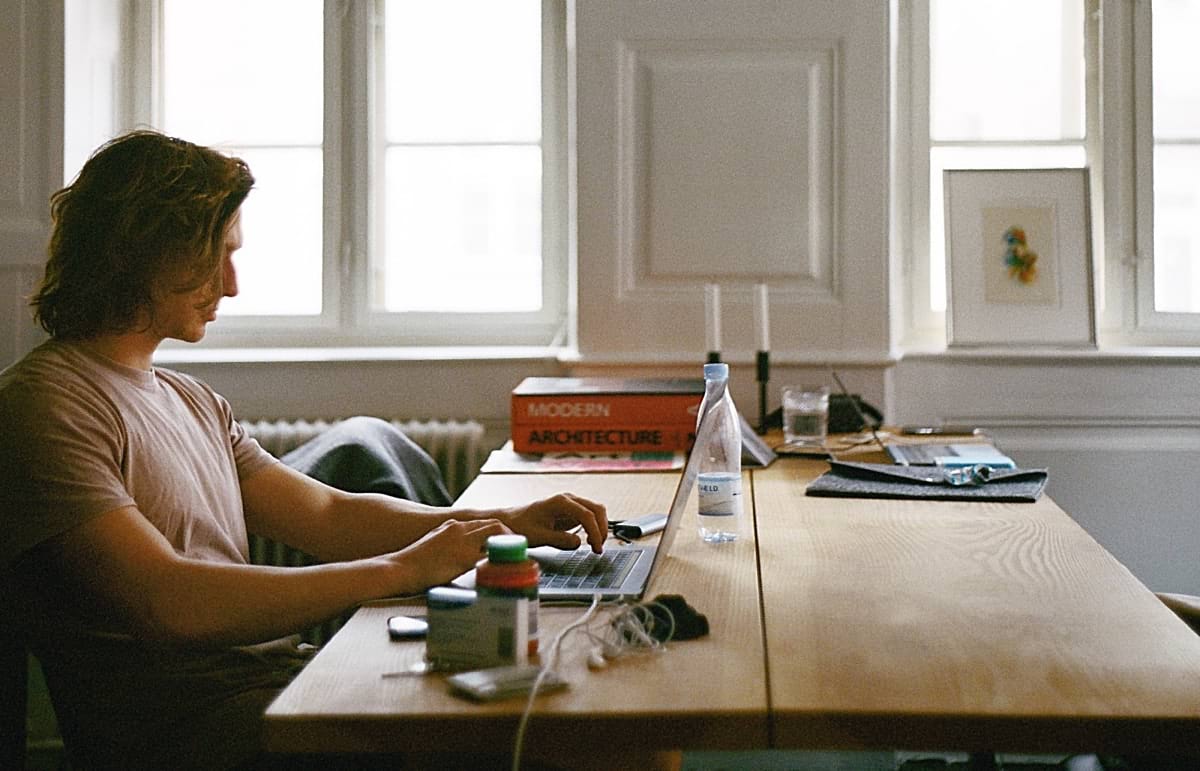 1. Dress for success
Working from home creates the ultimate opportunity for your chill-at-home-in-pyjamas side to interfere with your workflow. Some might go for the "I'll only dress up when I need to call someone with video" concept, others may stick to the laid back non-showered look even through meetings. Instead, you should probably start considering ironing that blue striped shirt of yours, even if it's just for the working hours of the day. Vanessa Friedman, Fashion Director at New York Times, said in a recent article:
"Dress like you are going to work. Personally, I need all sorts of maybe-silly signals to my brain that it is now in work mode instead of home mode."
And according to some studies, science proves her right! Dressing in a way that makes you feel professional pushes you to do fewer errors and be more efficient. Reasonably, you also help others when you dress up for the video conferences you participate in by creating a professional atmosphere for them too. It's a good looking win-win-win.
2. Dedicate your workplace at home

My own temporary work-setup at home. Two screens, a microphone and a set of headphones all set up on the kitchen table which has been moved out to the living room. Photo: Samuel Norrby
It's easier to separate what is work and what is not when you have an office to go to and a house or flat to live in (although, I know many of you spend extra hours at home doing work-related tasks regularly). However, when these two parts of life blend together in terms of physical location, every second you're awake can make you feel like you're on the extreme points of a spectrum of always working or never getting enough done. While dressing for success may make you feel attuned with work, making a part of your home, even temporarily into a workplace, can help you feel more in harmony with what you are supposed to do. The idea is to use things like lighting, furniture and whatever you have at your disposal and re-arrange it the best way you can to create a dedicated work zone at home. A risk of not clearly separating your time and space between work and life is that of making every hour awake a work hour. This, in turn, may lead to serious health issues. Ultimately it's all about the classic idea of creating a good balance between your work life and your private life, even in the confined space of your home.
3. Plan — for everyone's sake!
Discipline is impossible without some planning. That may sound like a cheesy online-quote from your aunties Facebook, but some level of planning will help most people create efficiency and meaning in their day. Some well-experienced remote workers said they don't plan everything in detail, instead, they make a list before they go to bed on what they want to achieve the next day. Some post it at the top of their own to-do-list, others post in a team channel to keep their colleagues in the loop. With a good plan, you won't miss a beat just because you're remote, and neither will your colleagues.
4. Prepare your communication
"Well, I know he told you about the page being ready to release, but he only meant the backend support for it. Completing the frontend work is weeks away."
This was said to a friend of mine by a product manager working at one of the most inspirational startups in Stockholm — One week after they all started working from home. Misunderstandings happen all the time, but they happen more frequently when we don't know how to communicate well with each other. Working remotely gives you the opportunity to structure the way you communicate to achieve great efficiency. Suggest some rules of engagement, regular check-ins and active-hours to your team so you all know when to send someone an instant message and when to plan a call. Most things like these are just as applicable to achieve good results when working in the office too, it's just more obvious what works and what doesn't now that you're remote. I've always found that keeping people in the loop is easier with a bit of structure. Not only do I know who to give an update, I know when and how I do it too.
5. Create a social space online
Setting up a remote-kitchen, digital coffee lounge or a team get-together channel is beneficial for the social well being of employees. Photo: Linkedin Sales Navigator / Pexels
It doesn't take more than a few days for the extrovert mind to start feeling like they're excluded from the party when working from home. Even the introverts may start longing for those short chats about the weather by the office coffee machine. One of the best suggestions I've heard is to set up a remote kitchen or lounge for your team just to have that space to talk about non-work related things. The reason this is so important is that it helps us build friendships with our colleagues. According to happiness researcher, Annie McKee, this gives us feelings of belonging, cause and fulfilment. A happier you will, of course, lead to you being able to deliver more at work. Managing your motivation through proactiveness and socialisation has never been more important than now.
Keep up that good work!
Hopefully, one or more of these experience-based tips will help you get more work done in your new work-from-home environment. Share and discuss this with your colleagues and friends — Together you'll be able to create a remote experience that keeps you happy, efficient and motivated. Keep up that good work!
Take care of one another.
Sam
Original article:
https://medium.com/@samuelsmrinorrby/5-pro-tips-on-how-to-work-efficiently-from-home-329b397f5c25